Genius Product Family

Genius™ EX
Genius™ EX is a free mobile payment processing application that allows you to accept credit/debit payments on the go through virtually any smartphone or tablet. It's easy to set up, offers numerous customization options and provides ultimate security for you and your customers.
Genius EX is used with the Genius EX portable encrypted card reader that helps merchants avoid high-cost "card-not-present" fees.

Genius™ ITX
Genius™ ITX is a holistic solution, fully integrated directly with a point-of-sale (POS) system, that provides developers and merchants with:
• Universal payment acceptance of NFC, EMV and QR codes
• Integrated mobile gift, loyalty, and reward programs
• Unlimited choice amongst payment types, mobile wallets and mobile commerce solutions
• Simple, one-time POS integration
• Cloud-based software updates for new capabilities
• Unified security through tokenization and encryption
• Enhanced customer experience to support business growth
Credit Card Terminals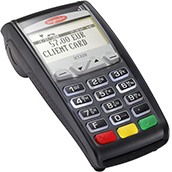 Ingenico iCT 220
Lightweight, stylish and self-contained, the iCT220 will give your merchant customers the freedom to accept all types of electronic card payments without requiring a cash register or POS system interface. All iCT220 functions – from payment processing and receipt printing to settlement reporting and brand enhancement programs – operate flawlessly from a single piece of equipment. This rugged, easy-to-use device also carries our advanced security measures, which means even the smallest shop can benefit from Ingenico's global leadership in secure payment processing.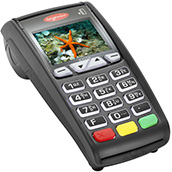 Ingenico iCT 250
Ingenico's innovative iCT250 has the intelligence and versatility to stand alone, in even the most demanding retail environments. This countertop device gives your merchant customers the freedom to accept all existing forms of electronic payment – including contactless, EMV and mobile (NFC-based) – because it requires absolutely no interface with a cash register or POS system. All operations – from payment processing and receipt printing to settlement reporting and brand enhancement programs – generate from a single, secure and easy-to-use color device.

FD 100 TI
First Data's FD100 TI is an all-in-one terminal enabling merchants to accept all forms of electronic payments – credit and debit cards, gift cards, contactless payments, as well as the ability to convert paper checks into electronic transactions at the point of sale. Low-cost and feature-rich, this terminal is ideal for retail merchants looking to expand their payment processing capabilities. With a fast thermal printer, intuitive touch screen and a choice of connectivity methods, the FD100 TI terminal provides a high level of performance, security and ease of use.
Credit Card Software

Authorize.Net
Authorize.Net provides businesses with an ecommerce payment gateway that enables you to authorize, process, and manage credit card and electronic check transactions in a real-time, online environment. Using Authorize.Net., transactions can be conducted from any computer with an Internet connection and a web browser. Authorize.Net also offers a virtual terminal for offline card processing.

MerchantWARE Virtual Terminal
The MerchantWARE Virtual Terminal is a web-based point of sale solution that replaces the need for a credit card terminal and enables merchants to process credit cards, debit/EBT cards and manage their account through an internet connection. The gateway contains extensive reporting features with the capability to re-charge previously processed cards for up to two years. The gateway also supports batch processing and multiple user login access for a single account for enhanced account and user management.
POS Solutions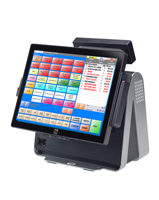 Restaurant Pro Express
Restaurant Pro Express (RPE) is a state of the art, award winning restaurant point of sale system. Our computerized POS system enables restaurateurs to improve the profitability of your business through faster and more accurate order processing, integrated tools to track and manage ingredients and recipes, managing employees labor, and effectively marketing to customers based on ordering trends.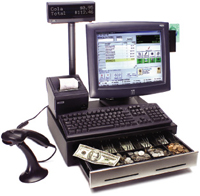 Cash Register Express
Cash Register Express (CRE) is a state-of-the-art, award winning retail point of sale system. Our computerized POS system enables retailers to improve the profitability of their business through faster customer checkout, accurate inventory tracking, reducing or eliminating shrinkage, managing employee labor, and effectively marketing to customers based on purchasing trends. CRE has robust functionality and comprehensive business reporting designed to meet the needs of virtually any retailer.
Credit Card Swipers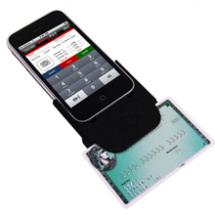 iDynamo Credit Card Reader
iDynamo is a credit card reader and authenticator designed to work with the iPhone (4 and 3Gs) and the iPad. Data encryption helps keep sensitive information safe, and the MagnePrint card authentication system prevents the use of counterfeit credit cards.
Leverage your iPhone and/or iPad on the road without the concern of fraud and data security with iDynamo. Rugged and affordable, it is perfect for real-world use!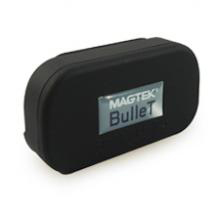 Magtek BulleT Bluetooth Card Swiper
Get a secure credit card reader authenticator for your mobile device. The bluetooth wireless interface adds flexibility and portability. The BulleT encrypts card data when the card is swiped, and allows for immediate detection of altered or conterfeit cards.
Witht the BulleT, you can support your mobile business needs knowing that transactions are secure and that your costomers' card data is protected at all times.
PIN Pads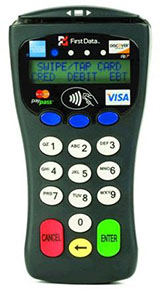 FD 35
The First Data™ FD35 device goes beyond the simple PIN pad. This comprehensive, consumer-facing device not only accepts PIN-based debit transactions and swipes traditional payment cards, it is enabled to accept chip-and-PIN cards (aka EMV), which allow customers to initiate and process their own transactions without relinquishing control of their cards. It also enables contactless transactions, as well as mobile phone payments that include the ability for merchants to drive loyalty and repeat business by generating and redeeming special offers via consumers' mobile phones.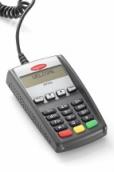 Ingenico IPP 220
The iPP220 guarantees the visibility, security and transaction speed required in the financial sector. High-performance yet value for money, it ensures intuitive use and effortless access to applications. Connected to an iPP220 countertop, the advanced, compact design and outstanding versatility make this PIN Pad a truly compelling, next generation solution.